You do everything on the internet: from looking for information, doing business to selling and buying items for your personal use or otherwise. When you go about these several activities online, there are situations where you have to leave your personal information on websites to carry out transactions. This has made security for you and everyone using the internet a matter of high priority.
Therefore, if you intend to carry out transactions on your website, having an SSL certificate for your website a necessity.
Now What Is SSL Certificate ?
SSL certificate is an acronym for security server certificate with the full meaning, ''Secure Socket Layer.'' It serves as a form of security for websites that manage delicate and sensitive information of visitors like passwords, personal information and other data you exchange on the internet while you browse.
It ensures that the connection between your web browser and the server of the website you are visiting is secured and that the information exchanged remains private between your computer and the website you visit.
How Does SSL Certificate Work ?
When you open a browser (Chrome, Firefox, Opera etc) and try to make a connection with a website, the browser requires the website to identify itself. The website sends a version of its SSL certificate to the browser. The browser then takes a look at the SSL certificate to determine whether or not it can be trusted before you can continue browsing.
Do You Need An SSL Certificate On Your Website?
YES, especially if you will be requesting for personal information and expecting people to send messages to you from your website or to carry out transactions. Apart from this, search engines are going hard on websites that are not secured. Any website with only an 'http' in its URL in the browser address bar indicates it does not have an SSL certificate while those with 'https' have one.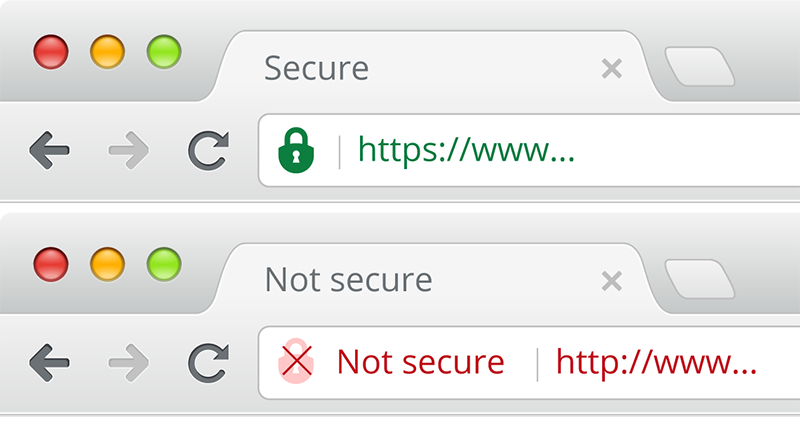 (So now you know how to identify websites with and without SSL!)
Prominent browsers such as Firefox and Chrome show a warning message of ''not secure'' in the address bar (URL) of the websites without 'https' like in the image above. Google recently announced that SSL on a website will be a ranking factor. What this means is that it will be more difficult for a website without an SSL certificate to be found and it will have an effect on traffic of potential clients coming to your website.
Not having an SSL certificate on your website will not disturb or affect the functions of your website but having one offers credibility, confidence and protection to both you and your customers. Visitors to your website whether old or new also trust you more and this increases your chances of making more customers for whatever product or service you offer.
While a website not having an SSL certificate does not necessarily mean the website is dangerous, it will definitely make prospective customers think twice before leaving their information on the website. SSL certificate can also save you a lot of money and stress because you'd easily avoid legal problems that can arise due to a breach in security leading to information of customers being compromised.
Having an SSL certificate is very important as it enhances and builds credibility for your brand and business. Now with all these reasons, don't you think it would be a good idea for your website to possess an SSL certificate? Definitely yes.
We understand that having to juggle all this information and little details can be quite a tedious process while deciding to build a website and that's why we take up these responsibilities for our clients in making sure they have everything they need to run their business. This way; they do not necessarily have to leave running their business, to run a website. That's why we have created special packages for small businesses to handle these tasks.