GTBank well known for its innovative products and services had the idea to leverage technology in teaching and training its staff with a simple and engaging mobile application that takes you as staff on a journey to learn how things work in each department within the bank.
The bank's idea is to have an engaging tool (or game) that trains staff about basic things like work etiquette, how to relate with customers, punctuality and how processes run. This needed an innovative approach to tackle this problem beyond the traditional methods of staff trainings, seminars and courses; this gave rise to the creation (birth) of Orange books.
Orange books is an interactive mobile app that takes you as the player on a journey through a series of immersive stories and lets you take decisions as you play along, interacting with other staff and team members you meet within the story getting to learn about what they do and taking on responsibilities and task yourself within the process.

Orange books (named after the official brand colors of the bank) is a learning tool for GTBank staff that affords you the luxury of learning leisurely while exploring activities like you're going through a soap opera in an interactive story / game format that can be played whenever and wherever you are.
The app allows you to explore a library of interactive stories on your phone in order to train yourself on key learning points within the bank's process and refresh your memory whenever the need arises.
The application opens up to a big welcome sign which reads 'Orange books. Learn by playing' and this is the whole idea of the application. The welcome page shows the background picture of a typical GTBank staff desk; comprising a system, keyboard, work bag and a mug underneath which is a notepad.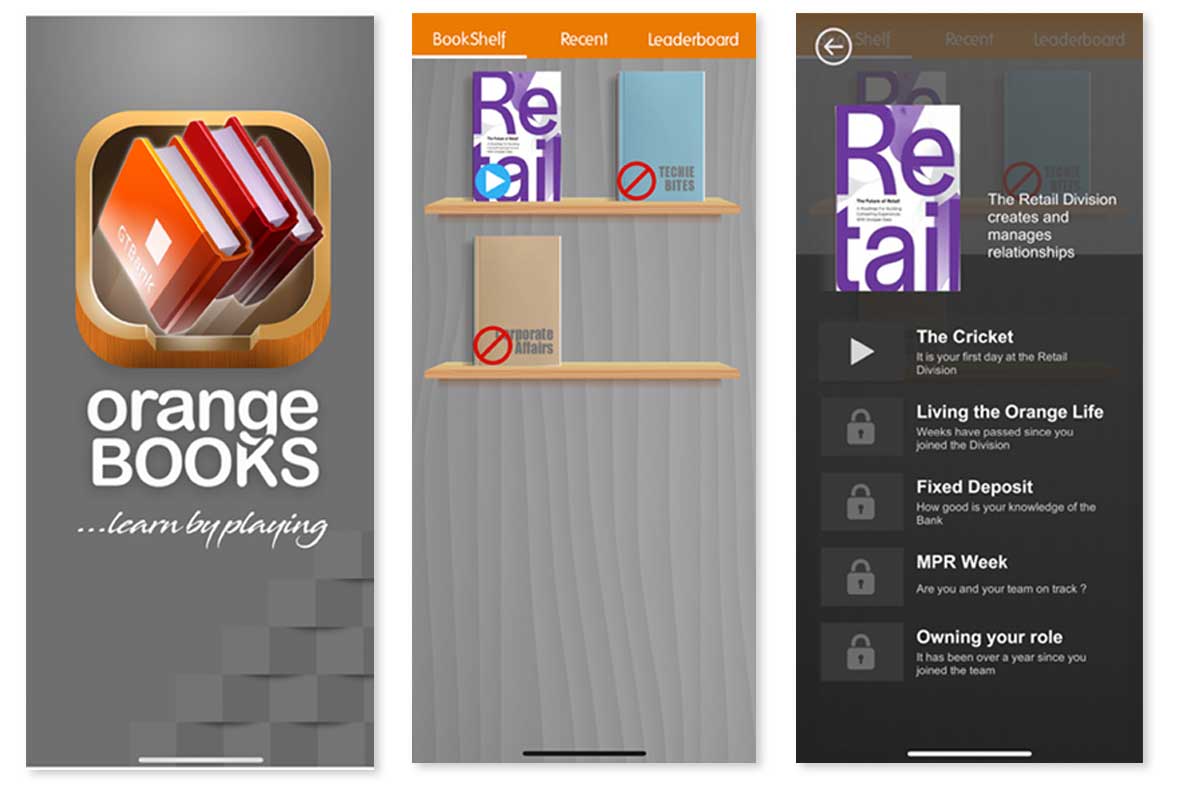 The app once logged in takes you to the bookshelf where you have a list of stories for different departments within the bank.
Each book is named according to the departments in the bank and various chapters with gameplay within them.
Each chapter has a varying number of scenes which plays out based on the choices you, the player makes as you proceed within the game.
The choices and decisions you make during game play earn you points and influences the plot of the story you individually go through during game play, gives you different experiences.
For example, if you do not select your ID card as a necessary item for your first day of work, you end up getting embarrassed by the security man as he has no proof that you're really a staff member so he cannot let you into the bank before opening hours.
Each task when correctly performed attracts points which are collected at the top left corner of the screen. These points determine how well you played and your position on the leaderboard where all top scores of staff members are revealed.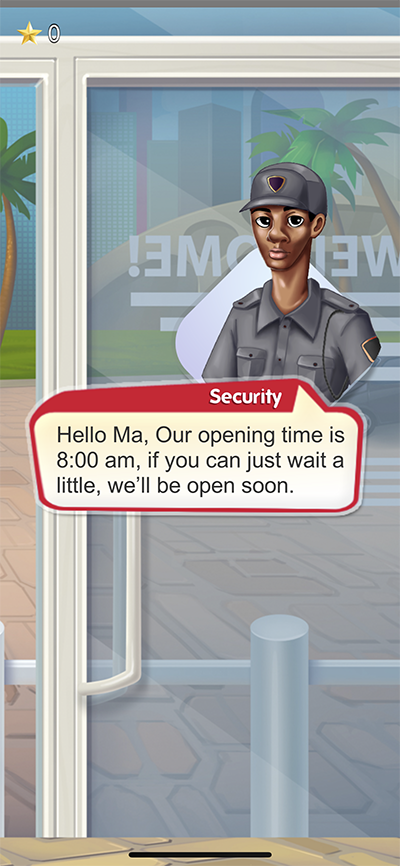 .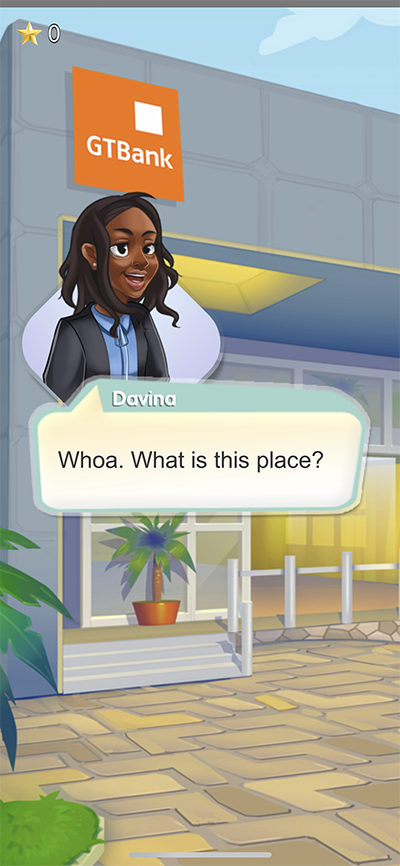 Each scene has a goal and you have to achieve this goal in order to continue to the next scene. These are relatively easy activities to pass and as you go about the tasks assigned to you (which are based on the things that you have been taught while interacting), you get to relate with your fellow workers, bank staff, security, customers and lots more
The app is designed in such a way that relates to reality as each person's speech corresponds with their expressions at each point in time with the necessary speech inflections where needed.
At any point during game play, The top strip/bar shows your progress within each chapter , also tapping on the topmost part of your screen will display your current level and scene goal and the option to enable or disable the music for the game.
All through the game are conversations that express the bank's visions and policies, along with various things you need to know as a staff of the bank; like staff hierarchy and interaction, functions of the various departments, how they work together to achieve their objectives as a whole.
Orange books app has different books which cover the various departments in the bank as well as their job descriptions and services they render, down to other minute details.
The books which contain several short stories that teach key lessons are supplied free and updated regularly with new stories for readership and relaxation.
The App is exclusively available on iOS and Android only for internal use for GTBank Staff.