I reviewed the beta version of an app recently; as part of the signup process, I was asked to fill fields like prefix, first name, last name, email, phone, gender, address, state, company, designation and other fields; this left me thinking "do you care for my birth certificate, license as well as my SSN too?" all because I want to try out an app / solution you've built ? It shouldn't be this difficult.
Switching the narrative around however, changes this experience; if you choose instead to reward users very early in the engagement process for every action they take even without asking for anything in return it will have a different effect on the final number of sign ups and success of your solution.
This principle was put to test recently in the proof of concept we designed for sign up methods as part of the UX design of a bespoke CMS called Mudsuite. We had the challenge to create a tool for photographer to build a mobile app (from their phones); the way we could achieve this is to leverage Progressive Web Apps (PWAs) while exploring an idea to build mobile applications for small businesses on the fly.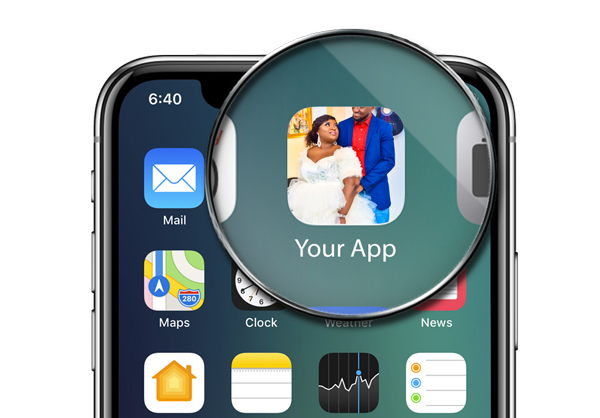 We came up with a simple flow that allows users go through the process below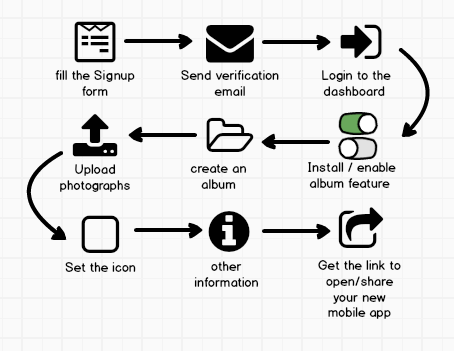 This was beautiful and it worked effectively for existing users on the platform, so we decided to test with a few new users by launching a simple facebook campaign; to my surprise no one used it.
This bothered me for the next few days; existing users that we worked with used this feature and created personal apps and albums returning to use this new feature regularly but we simply couldn't get new signups with it. This meant we needed to change the narrative and redesign the flow (User Experience).
We went back to the board and started examining this from the user's perspective, asking questions like - What did we promise to deliver to them to get them engaged? Observing what they liked and why they liked it; We soon realized upon assessment what we could have done better within this process. Our promise was to build a photo album app in 3 minutes or less but there was a 9 step process users had to go through before you could create an album; really, no one had the time to sit through that to complete it; we had to redesign the flow working only with the last 3 steps as the initial process (as shown in the diagram above).
We shortened the process to 3 steps.
Add the pictures,
Choose an icon
Leave your email & name (and you will receive the link to the app in your email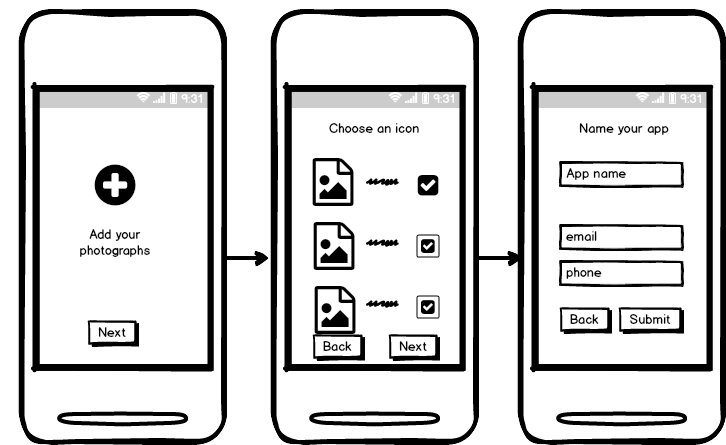 Even within this 3 step process, we carefully crafted rewards into the steps that encouraged the user every step of the way while signing up; All you need to do is add your photographs, then you get the option to choose one of them as an icon (this alone is a form of reward / indication to the user that "something cool is happening" which encourages them to continue) as they proceed to the ultimate goal of creating their mobile app.The next step prompts you to name your app which lets you input something personal as the name of your new mobile app then you get an email with the details of the app you've just created.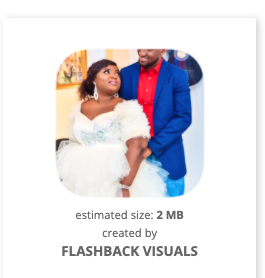 Once this was done, we ran a test campaign and got the first 10 users in less than 3 hours; from zero where we came from, this meant "Success" which led to the next set of challenges to work on.
In this age, all a user wants to do is have a simple tool that achieves their objective with little or no effort /expertise and this is what we set out to do by improving the experience in building simple photo album apps thereby validating a number of theories that we've gathered.
The complete Photo album tool is available here http://create.mudsuite.com as part of a project we started to simplify web development & management for small businesses in underserved regions. Mudsuite currently powers this website, my personal portfolio and a few other websites for select clients.